Course details
Choice of Chinese tea ♪ Coloring Chinese Course [All 7 items only] 2500 yen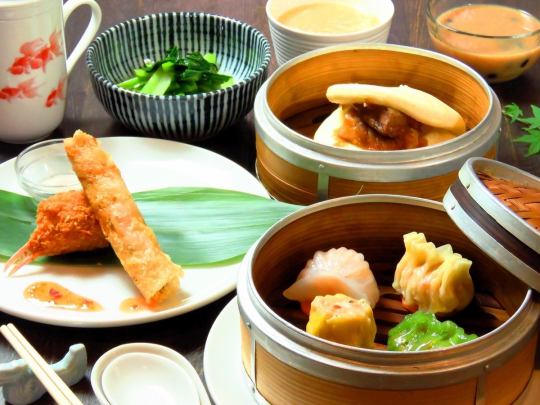 By using a coupon2500 Yen
(Excluding tax)
Reservation deadline

Until 19 o'clock on the desired date of coming to the store
Available days for reservation

Tuesday - Thursday
Course menu
■ Today's soup
■ Crab claw and seafood net spring roll
Stir-fried shrimp with green vegetables
■ Four colors of coloring
■ Angkorban
■ Today's dessert
Seven kinds of Chinese tea you can choose
1. Black Oolong Tea
It is a blend of Oolong tea and Pu'er tea.Polyphenols reduce fat absorption.
2. ichova oolong tea (toucho)
It features a light fragrance and mellow flavor.There is a freshness that will penetrate the skin.
3. Toho Beauty (Torujibin)
It is the highest fermentation among the green leaves, characterized by a sweet taste like honey.It resembles tea.
4. Kenzora Oka Oolong Tea (Keika)
It is a mixture of oolong tea with oolong tea with solid flavor.The sweet scent of osmanthus and oolong tea astringency are well established as entertainment tea.
5. Kaida Iron Kannon Tea (also crowded)
Fermentation degree 40%.Tea leaves are apricot with transparent feel.The distinctive soot incense and deep taste has a depth that is not found in Kiyoshi.
6. Extreme Magi Pearl Tea (Shabu-shaman)
Luxury tea which pearls of large white tea germinate, scented and carefully made into a pearl shape of about 5 mm.When pouring hot water back to the leaves, a slightly faint and sweet elegant tea.
7. Luxury Aroma Tea (Mr. Aka Koroku)
Brand tea made in Hong Kong's tea shop.It is characterized by a savoryness similar to Hojicha.
Tea leaves are a special product of the Nagasaki family, blending 4 kinds of green leaves, green tea, black tea, and cinnamon on their own proportions.
«The contents are subject to change depending on the season and stocking relationship.»
Coupons that can be used with this course
2018/11/13 update